Welcome to the New Transport Tycoon Terminal!
Welcome to the Transport Tycoon Terminal!!!! There are now several new graphics for TTD(patch) So you are welcome to browse and and contact me if there are any broken links. Christopher Jones
Why am I here?
The Transport Tycoon Terminal is dedicated to providing graphics for Josef Drexler's awesome TTD patch for Chris Sawyer's Transport Tycoon Deluxe. Feel free to look around and download. Feel free to contact me or leave any comments in the Guestbook.

Hello Again
Posted by Born_Acorn on Sunday, November 14 2010 at 4:59 PM
It's been a good while, but if anyone is reading this, then there probably won't be further updates to this site.

As you may have noticed, there hasn't been any real activity on anything here since Feb 07, which was a month into my first job.

Recent TTD projects for me have included the following on OTTD's OpenGFX project: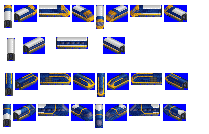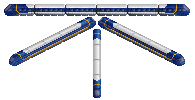 Anyway, if you want to poke around the majority of stuff I've ever done, look here




2009
Posted by Born_Acorn on Tuesday, June 9 2009 at 5:13 PM
It's been more than two years since the last update.

I have been working on making the site work better behind the scenes. For example, the sidebar and footer now use templates included in every page.

The news system was broke, so this is kind of a test. The screens work, anyway.




How do?
Posted by Born_Acorn on Tuesday, October 23 2007 at 9:14 PM
I am returneth from the dank damp crap-soaked wetlands known as real life.

I still ain't got nowt to release, but I'll show some things I've been working on, or have worked on since the UK Roadset went out the door.

First up are some Generic company colour trams, meant for a game such as OpenTTD which got the feature earlier in the year. Beforehand I'd just been trying to provoke other artists into doing one, but nobody would, so I decided to do one. However, once I'd actually made some progress somebody else did it, so these won't be released.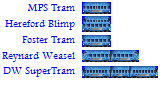 Next up is (yet another) factory replacement, except I never really told anyone about this, nor intend to finish it soon. As you can see from this, I take a lot of textures and shapes from the original Transport Tycoon. The sheet is too large to be inlined here, so:





CLICKETH HERE





Last but not least are some unused hangars.






That's all for now, see you in another five months! (probably)




Still Going
Posted by Born_Acorn on Friday, May 11 2007 at 11:35 PM
This place is still alive (although whenever you see one of these posts it was ususally made years ago, was the last thing posted, and you're seeing it via archive.org).

I haven't got much stuff in progress, mainly due to a massive hard drive explosion, taking all my WIP works with me. Serves me right for not screwing it in.




UK Roadset Version 1.1 released!
Posted by Born_Acorn on Friday, February 2 2007 at 8:43 PM
It includes support for the New South Wales (Ausset) and Japanset landscapes, has drive on right support for both, and also supports most bridge sets out there.

Head over to the Downloads Section to download it!




UKRoadset Updates
Posted by Born_Acorn on Friday, January 19 2007 at 7:52 PM
Since it's release there's been a whole slew of UK Roadset updates and upgrades. The newest version (1.0G as I speak) includes fully working drive on right support, so you can use it even if you don't want to be based in the UK!

Soon, 1.1 will be released. This'll have support for Ausland (NSW) and Japanset landscape support.

Raichase has kindly been showcasing the test version for us, and it sure does look nice. I've just finished up the Ausland sprites, but here's an earlier test screen from Lakie if you want a feel for what it'll look like.

The support for both of these landscape sets, even though Australia and Japan both drive on the left, will also include drive on right support, and support for Pikka's brick viaduct, Purno's bridges, and Rob's bridge.

I wonder if there's any more stuff to support. :p




Tram Depot
Posted by Born_Acorn on Saturday, January 13 2007 at 11:45 AM
A new tram depot to use, in a train depot style, rather than a road one. (Tram depots I've seen look rather train depoty)





Head over to the download section or head on over to WhiteHand's blog to obtain it.




Generic Buffers!
Posted by Born_Acorn on Tuesday, January 2 2007 at 12:05 AM



I've released the Generic Buffers, after a few minutes of drawing, hours of coding from peter1138, and a day of testing.

Head on over to the downloads section to get them for yourself!




Merry Christmas and a Happy New Year
Posted by Born_Acorn on Saturday, December 30 2006 at 10:42 PM
Well, a bit late for Christmas, but not yet for a Happy New Year, at least.

Got a few nice things coming up as a late present, one is stations, the other a new Tram Depot.




UK Roadset Released!
Posted by Born_Acorn on Friday, November 24 2006 at 2:35 AM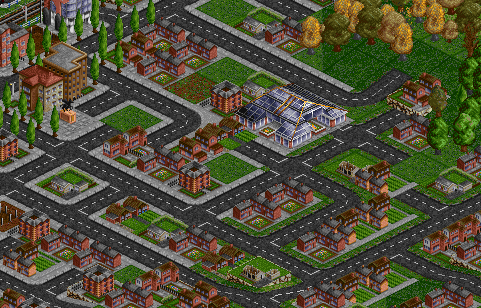 Lakie and me have finally released the UK Roadset. It is now fully ready, and 0.1 is up for download. Either download it, or discuss it in the forums.

So, head on over to the downloads section and download it now!



Download UK Roadset 0.1







UK Waypoints update
Posted by Born_Acorn on Friday, September 29 2006 at 3:27 PM
I've drawn more waypoints and updated some of the current ones.

Peter1138 then coded them and made an updated GRF file containing all this goodness.

To get the new version, visit the downloads section right away!




A work in progress
Posted by Born_Acorn on Saturday, August 5 2006 at 7:23 PM
Introducing the new version of the New Roadset. This time, less garish and toy looking. It's based in the UK only though. I have it mostly done (with immense, immense thanks to Pikkabird). I only need sort out the bridges now, which I've been told will be near impossible to do. Unfortunately, I can't hack them like I used to using grfcodec, exe files, and grdtogrf. (I lack the ability to do it any other way)




Also, I have now added a new comments system to the jig. Click on "Comments", beneath the newspost title, and leave a comment in the new window.

I have also also archived the old news. Use the numbers or Next and previous buttons below to browse the archives.




New airport tarmac
Posted by Born_Acorn on Wednesday, July 26 2006 at 5:23 PM
I finally added the new tarmac to the new airport I drew. It's in the download section, but have some images: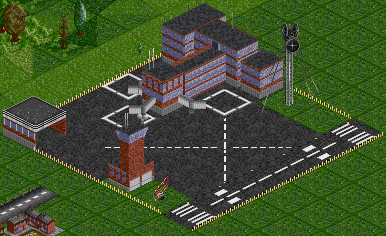 Commuter Airport (OpenTTD)
Metropolitan Airport (OpenTTD)
International Airport (OpenTTD)
Intercontinental Airport (OpenTTD)

It can be found over in downloads.




Linkage!
Posted by Born_Acorn on Sunday, May 21 2006 at 4:26 PM
Linkage! The Transport Tycoon links collector is a collector of links about Transport Tycoon. You can vote on websites, and add your own too!

Visit Today at
http://linkage.munki.org/




Shinkansen for Chris Saywer's Locomotion
Posted by Born_Acorn on Saturday, April 15 2006 at 9:08 PM
Chris Sawyer has officially released a new train for his newest game, Chris Sawyer's Locomotion, it is the Series 0 Shinkansen, otherwise known as the Bullet Train, and hails from Japan. According to Chris, it, other trains and a Japanese building set were cut from the released game, but this, being the best one, has been released as an add-on. It is included with a scenario.

Go and get iot from his official site, here.




Small updates.
Posted by Born_Acorn on Friday, April 14 2006 at 10:20 AM
This place is still alive. That is shown by the rising number of unique visitors every month!

I have updates to the UK Waypoint set planned, and sometime soon a new glass station, if I can get the building done. (what should a futuristic building look like?) Here is a small preview of the station halls for now. These will be big ones, to go along with the exisitng small one track ones.


UK Waypoints
Posted by Born_Acorn on Tuesday, February 28 2006 at 5:28 PM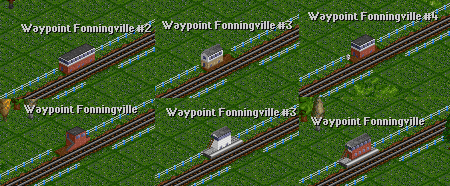 These 6 waypoints are based on real ones from and around the United Kingdom. They include Ones from the "Big Four" days, up into the times of British Rail. These waypoints were drawn by me, and coded by peter1138. To download these, please make for the downloads section

Chris Sawyer on a new game?
Posted by Born_Acorn on Thursday, February 23 2006 at 4:01 PM
Thats what Redboss games, specialist in mobile games says. Named "Train Tycoon", the game will "focus on the fun and challenges of building railways".



The game is heavily inspired by Chris' other games, such as Rollercoaster Tycoon, and of course Transport Tycoon. The game will be made for mobile phones, and use be available later this year.

Oh, and more thingies soon, got something large coming up.





Small Updates.
Posted by Born_Acorn on Saturday, February 4 2006 at 6:45 PM
Ive been trying to get the Savegames section integrated, but it seems to eat the side menu. Also, there have been a few updates to the Transport Tycoon Section, including a brand new rail junction guide. Soon I hope to have an entirely new rail tutorial, covering the basics.

I know its a bit late, but HAPPY NEW YEAR!

Its also probably old news by now, but this place is also tt-terminal.co.uk. Now its official as I have certificates!




Downtime Tonight
Posted by Born_Acorn on Thursday, December 29 2005 at 6:35 PM
At around 7PM GMT. It will be around 5 minutes, but could be longer. If the site is down, try again later.
Powered by Coranto

---

|

|

|

---



Previous | Join | Random | List | Next | Next five
---
You are visitor
since June 2005
Hosted by:

All material Copyright © Christopher Jones 2003-2009 or owned by their respective authors where mentioned. Thanks to Jonathon Pilmoor for the site name, and Lakie, Dalestan and petern for coding various things.
Privacy Policy